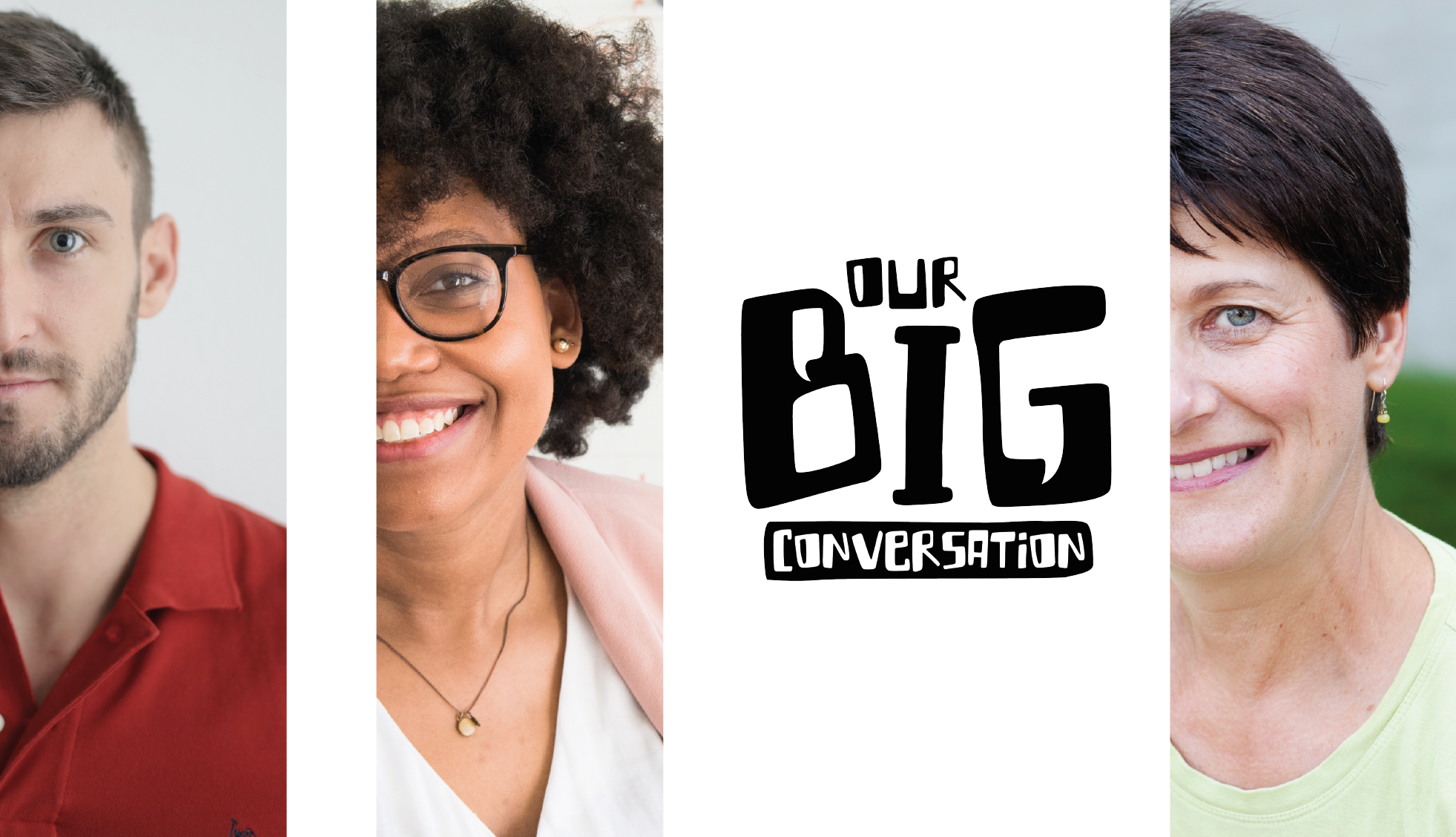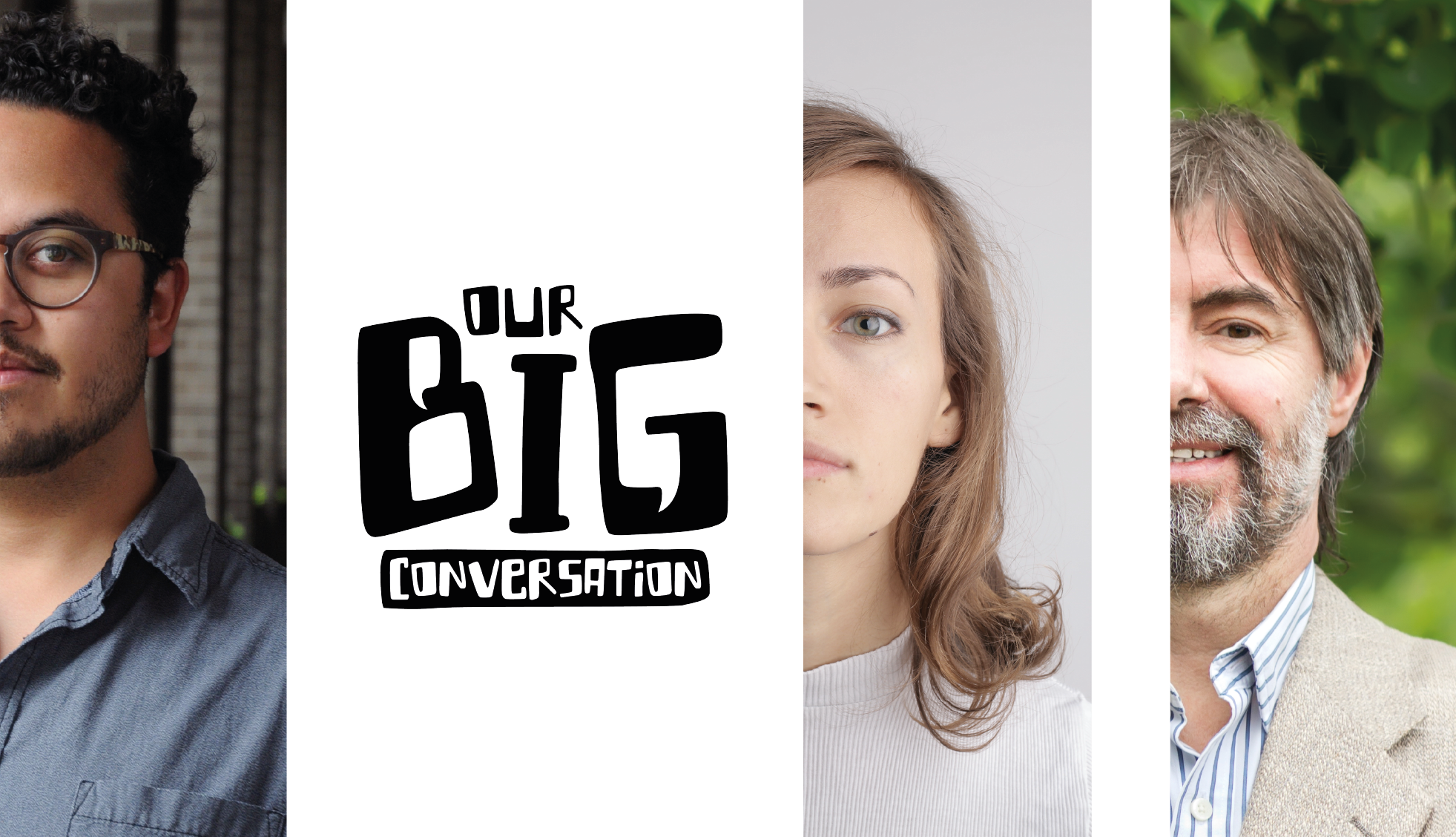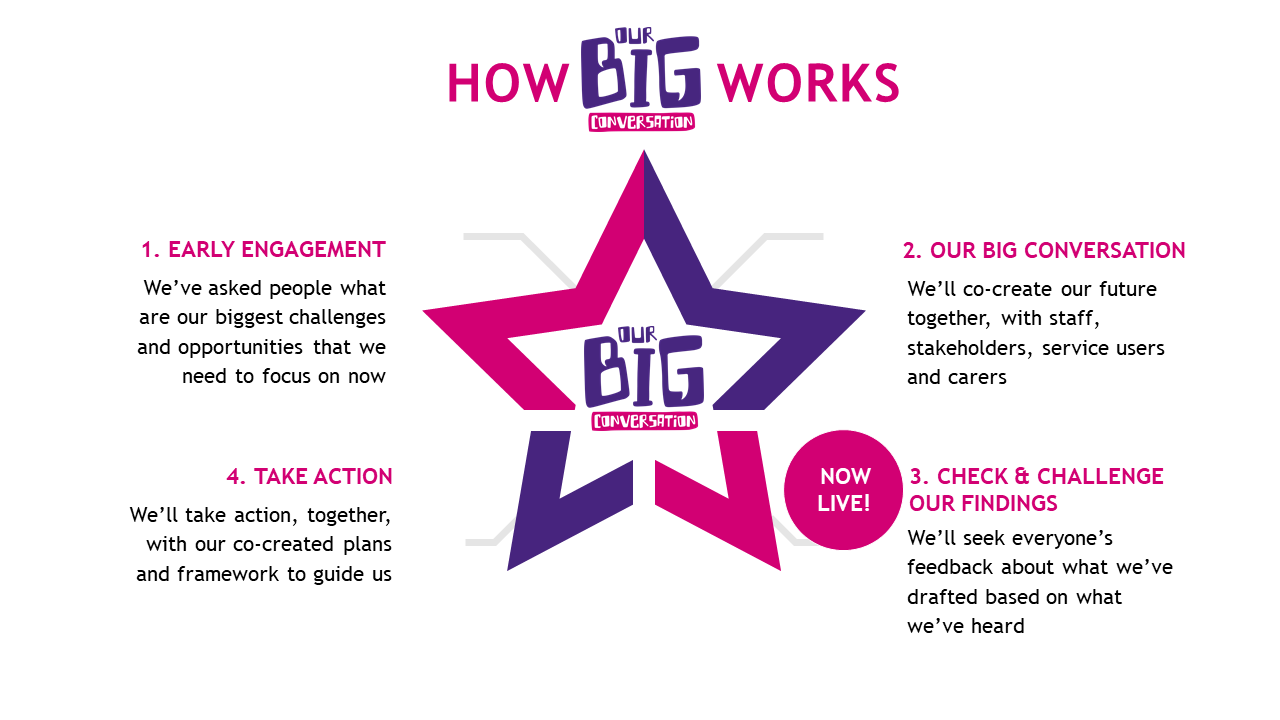 #OurBigConversation is now closed for analysis
Our most recent big conversation was an opportunity for everyone to share views, ideas and insights to help shape our future 'business plan', together. It closed at 23:59 17th Feb. Our analysis of this conversation will help to reveal the big steps we need to take to achieve the strategic goals we co-created with carers, service users, families, partners and colleagues at the end of 2020.
Expect to hear more in March 2021. In the mean time, the info below shares more about our journey and the aim of our most recent big conversation. Thanks.
------------
Over the last few months over 2,200 service users, carers, families, partners and colleagues joined #OurBigConversation to explore what could be possible if we got everything right, and what we must do together to achieve this.
More than 35,800 ideas comments and votes have been shared so far and from these rich conversations we've co-created our new strategic framework. This sets out our shared future ambition and our shared purpose.
As well as defining our purpose and vision, our strategic framework sets out three big goals that we are committed to over the next five years. This next phase of #OurBigConversation is about making sure our more detailed plans and actions help us to deliver these goals.
Here's a reminder of our goals:
1. To co-create a great experience for our patients, carers and families.
2. To co-create a great experience for our colleagues.
3. To be a great partner.
To achieve these goals, and based on the feedback we got through #OurBigConversation, we've developed some big ideas for change, key actions and draft plans around five key areas of work. These have been worked up by groups of staff, service users, carers and partners.
Now we'd like to know:
Are we focusing on the right things?
What's missing?
Could we change these actions to make a bigger difference?
Please use this opportunity to tell us what you think. It's so important that we get this right and from your feedback we will further develop our thinking around the five key areas of focus. This will form a really important part of our business plan for the next three years.
We hope you continue to be part of this important conversation to help us shape our future together.
And while you're here, we wanted to let you know that our strategic framework was approved by our trust board in January. Thank you for helping us to create this framework - we'll be sharing details about how you can be involved in the launch over the next few weeks.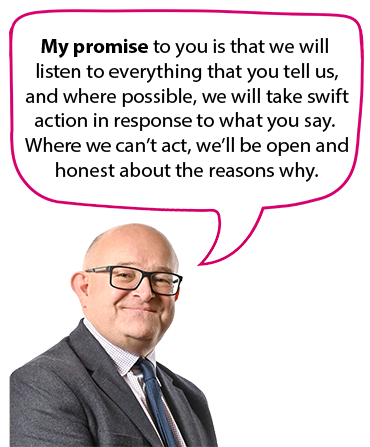 Brent Kilmurray, Chief Executive
If you would like to take part in future Big Conversation please register below and we will send you login details when the next workshop opens.